Student art on display during April First Friday
Downtown
— By
nmilner
on April 1, 2009 at 10:18 am
Don't miss the April First Friday art walk this Friday with 22 venues around downtown Scranton exhibiting the works of local artists.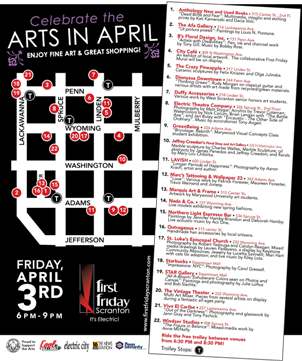 New to the First Friday scene are City Café, 309 N. Washington Ave., featuring the works of Dana Cook and the collaborative First Friday mural on display; and Nada & Co., 137 Wyoming Ave., featuring live models exhibiting new spring fashions.
You can check out live music at Northern Light Espresso Bar, 536 Spruce St.; B's Floral Design, Inc., 131 Penn Ave.; Dionysus Downtown, 244 Penn Ave.; Electric Theatre Company, 326 Spruce St., 2nd Floor; and St. Luke's Episcopal Church, 232 Wyoming Ave.
This month's theme is student art; venues featuring works by college and high school students include Duffy Accessories, 218 Linden St.; GreenBeing, 334 Adams Ave.; and Marquis Art & Frame, 515 Center St.
Click the image to download a pdf of the map.
Tags: Electric City, Electric City Renaissance, First Friday, greenbeing, pa, Pennsylvania, Scranton
Trackbacks
Leave a Trackback