First Friday map for May
Art
— By
nmilner
on April 29, 2009 at 12:08 pm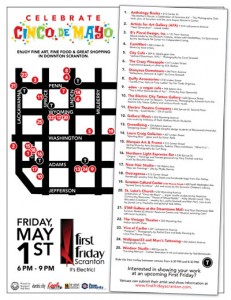 Celebrate an early Cinco de Mayo with First Friday this Friday, May 1, from 6-9 p.m. at 26 businesses and galleries around the downtown.
The Vintage Theater, 222 Wyoming Ave., will be hosting a benefit show for Ian Hoban who lost his home recently in a  fire. Five bands will be performing for a $5 cover with all proceeds going to Hoban and his family. The Scranton Cultural Center, 420 North Washington Ave., will host the exhibit "Spread Some Sunshine" and live music by the Lexington Jazz Trio.
First Friday music includes the Embassy of Rock (Gallucci Music Students) performing at Gallucci Music, 224 Wyoming Ave.; Beautiful Vision performing at Northern Light Espresso Bar, 536 Spruce St.; pianist Larry Trischetta and guitarist Bob White performing at St. Luke's Church, 232 Wyoming Ave.; Antioch performing on Courthouse Square; and Janice Gambo will be performing on the trolley.
You can always find great local art at regular First Friday venues like Anthology Books, AFA Gallery, B's Floral Design,  CamiMari, The Crazy Pineapple, Dionysus Downtown, Duffy Accessories, eden,  The Electric City Tattoo Gallery, Electric Theatre Company, GreenBeing, Laura Craig Galleries, Marquis Art & Frame,  Outrageous, STAR Gallery, Viva el Caribe, Marc's Tattooing and Windsor Studio.
Tags: Electric City, First Friday, pa, Pennsylvania, Scranton
Trackbacks
Leave a Trackback