New Venues for March First Friday
Downtown
— By
nmilner
on March 3, 2009 at 12:13 pm
The First Friday art walk for March will feature the works of talented local artists at 18 venues across the downtown area.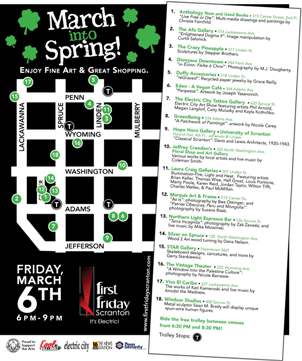 Set for Friday, March 6, from 6-9 p.m., this month's First Friday event includes the new venue, Viva el Caribe, 227 Lackawanna Ave., displaying the art of Kati Kameroski and live music by Amidst the Madness.
Other venues offering live music include Jeffrey Creedon's Floral Shop and Art Gallery, 323 North Washington Ave., with Coleman Smith; and Northern Light Espresso Bar, 536 Spruce St., with  Mike Mizwinski and Billy Rogan.
The University of Scranton's Hope Horn Gallery, Hyland Hall, 4th Fl., Jefferson at Linden, will show and exhibit called "Classical Scranton: Davis and Lewis Architects, 1920-1943." The Electric City Art Show will be on display at Electric City Tattoo Gallery, 620 Spruce St.
To see the full list of venues, click on the image for a printable pdf.
Tags: Electric City, First Friday, pa, Pennsylvania, Scranton
Trackbacks
Leave a Trackback