Holiday Window Showcase around downtown
Downtown
— By
nmilner
on December 4, 2008 at 10:27 am
Around downtown Scranton, local businesses are showing their Christmas spirit with festive window displays. The Holiday Window Showcase, sponsored by the Scranton Business Alliance and Scranton Tomorrow, includes 42 downtown businesses and will be going on through the holiday season.
Tour the downtown – for example, during First Friday – and check out each of the window displays. Then cast your ballot for your favorite window at any of the voting locations: Dionysus Downtown Wine Bar, 244 Penn Ave.; Northern Light Espresso Bar, 536 Spruce St.; Nada & Co, 137 Wyoming Ave.; Outrageous, 515 Center St.; Penn Security Bank, 150 N. Washington Ave.; or GreenBeing, 344 Adams Ave. Winners will be announced during the Second Saturday Soiree on Saturday, Dec. 13.
Click the image for a .pdf with a full-size map and voting form.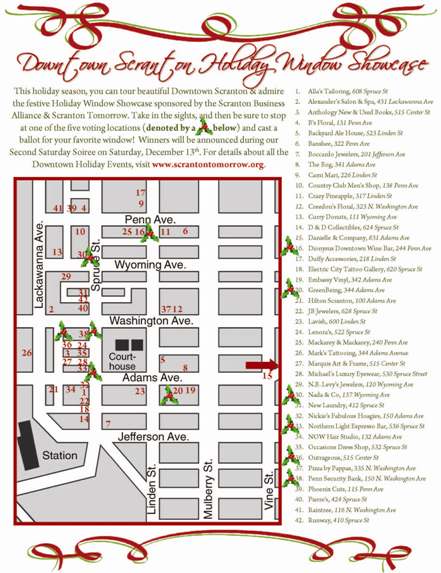 Tags: Electric City, holiday window showcase, pa, Pennsylvania, Scranton, scranton business alliance, Scranton Tomorrow
Trackbacks
Leave a Trackback