Psychic Theater of Scranton
Featured
— By
nmilner
on October 24, 2008 at 11:08 am
If you've never been, now is the perfect time to visit local landmark the Psychic Theater of Scranton, 1433 N. Main Ave., with Halloween right around the corner.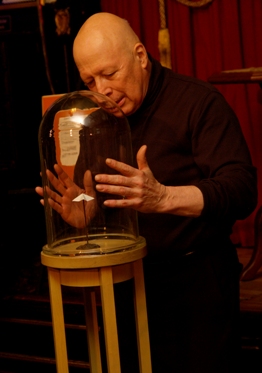 The more than 100-year-old theater has been featured on the Discovery Channel's "Exploring The Unknown," The Biography Channel, and the BBC's Dead Famous. During winter months, the theater hosts tours of its Houdini Museum with a live stage show but, for fans of the supernatural, you have to check out its "Haunted! Mind Mysteries & the Beyond" show.
The Psychic Theater is so sure of its spiritual activities that "Haunted!" comes with a $5,000 guarantee you will "hear, feel or see paranormal type happenings… such as sounds, touches, ghosts, mind reading, mind control, or poltergeist activity that you will not be able to fully explain and duplicate" during the show.
The show tells the story of murder-suicide-electrocution that happened in the building and lays out the seven steps to a successful seance. And after a short intermission, visitors take part in a multi-media dark séance, including "experiments in mind control, telepathy, clairvoyance, telekinesis, metal bending, sightless vision."
The entire presentation runs nearly three hours, evenings at 8 p.m. by reservation only. Call 383-9297 to make your reservation.
Tags: Electric City, halloween, houdini museum, pa, Pennsylvania, psychic theater, Scranton
Trackbacks
Leave a Trackback