Resources to help get ready for the Steamtown Marathon
Featured
— By
nmilner
on September 29, 2008 at 11:32 am

With the Steamtown Marathon coming up on Sunday, Oct. 12, we bring you a set of resources, today, to help runners and race fans around Northeastern Pennsylvania get more out of the race.
First, the basics: The Steamtown Marathon starts at 8 a.m. at the Forest City High School and finishes at Courthouse Square in Downtown Scranton. The course features a full net elevation drop of 955 feet and is considered one of the fastest marathon courses in the country. Steamtown has become popular among runners looking to qualify for the Boston Marathon. In 2007, MarathonGuide.com reported 21% of the Steamtown field qualified for Boston.
Race fans can follow the personal blogs of several runners documenting their training for the Steamtown Marathon.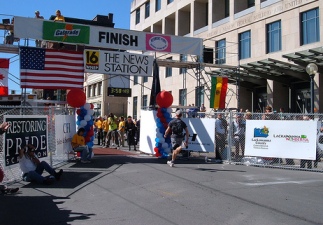 Browse a huge collection of photos from past Steamtown participants and fans on FlickR.
Chat with other marathoners from across the east coast coming to Scranton for the Steamtown Marathon on the Runner's World forum's official Steamtown thread or the Steamtown Marathon site's own forum.
And WNEP offers a four-part series on the 2007 race and will broadcast a special on this year's race on Friday, Oct. 17, at 7:30 p.m.
Tags: Electric City, pa, Pennsylvania, Scranton, steamtown marathon
Trackbacks
Leave a Trackback