Meet the Electric Theatre's Conor McGuigan
Featured
— By
nmilner
on September 23, 2008 at 1:09 pm
After a bit of a delay, we continue our series introducing the new resident artistic company of Scranton's Electric Theatre (formerly The Northeast Theatre) today with a profile of Conor McGuigan.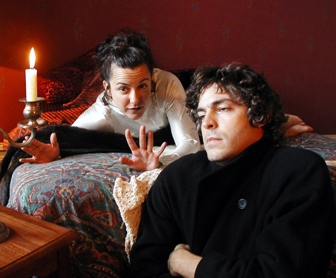 McGuigan is a native of the South Side of Scranton who began working with The Northeast Theatre in 2002 and, since that time, has appeared in numerous local productions. He said he was thrilled when the theatre moved to the downtown area in the old Hotel Jermyn at 326 Spruce Street; he's even more elated now to be a member of the resident artistic company.
McGuigan was the founder of the recently closed Test Pattern Art Gallery where he developed a string of basement theatre puppet shows.  When not on stage, Conor can be found DJ'ing and making people sweat around the area with his records or hiding in one of the nooks at Anthology Bookstore.
The Electric Theatre recently opened its 17th season with a production of George Bernard Shaw's "Arms and the Man," featuring McGuigan and the rest of the resident artistic company. The show runs through October 5 on Wednesdays and Thursdays at 7 p.m., Fridays and Saturdays at 8 p.m., and Sundays at 3 p.m. For tickets and details, call 570-558-1515 or visit www.electrictheatre.org.
This is part of a series on the members of the resident artistic company of the Electric Theatre. Previous installments include: Mary Ethel Schmidt, Heather Stuart, Richard Grunn and David Zarko.
Tags: anthology, Conor McGuigan, Electric City, electric theatre, pa, Pennsylvania, Scranton
Trackbacks
Leave a Trackback