Fourth annual Unity Festival on Saturday
Events
— By
nmilner
on August 1, 2008 at 10:27 am
There's plenty to do this weekend between First Friday, the Scranton Jazz Festival and watching Brian Stann defend his WEC title but don't forget about the Fourth Annual Unity Festival going on Saturday at Nay Aug Park pavilion, 1900 Mulberry Street, Scranton, from 9 a.m. to 9 p.m.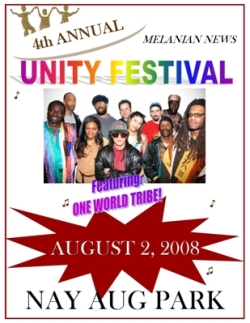 It's a multicultural celebration of the diversity of Northeastern Pennsylvania and Lackawanna County. There will be continuous entertainment throughout the day including belly dancing by the Lotus Fire Dance Company from 3:15-4 p.m.; a Russian handkerchief dance by the Red Shoe Dance Company from 4-4:15 p.m.; a feature performance by world beat orchestra One World Tribe from 1-3 p.m.; and hip hop performers Chris Fields and Bee EZ.
Visitors will enjoy hip-hop step teams, games, arts and crafts, ethnic cuisines and African art tours at the nearby Everhart Museum.
The event is sponsored by Melanian News, Lackawanna County, the Governor's Advisory Committee on African American Affairs, the Lackawanna Heritage Valley Authority, WYOU, United Neighborhood Centers and Penn State Worthington.
Tags: Electric City, pa, Pennsylvania, Scranton, unity festival
Trackbacks
Leave a Trackback