Brian Stann to defend his title
Downtown
— By
nmilner
on July 17, 2008 at 10:30 am
Scranton Prep graduate and Marine veteran of the Iraq war Brian Stann will have his first opportunity to defend his World Extreme Cagefighting title on August 3 in Las Vegas. Locally, fans of the upcoming MMA star can watch the fight on Versus.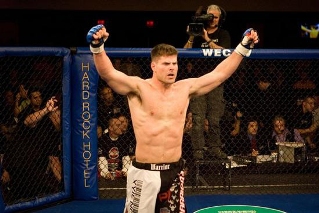 Stann captured the light heavyweight title in late March, scoring a technical knockout win over Doug Marshall at just 1:35 in the first round.
Following that fight, Stann's star continued to rise as he received national exposure. He was featured on the Howard Stern radio show where they celebrated his service to our country as well as his fighting skills. He was also profiled in a piece on CNN.
Stann will defend his title on August 3 against Steve Cantwell who enters the match with a 4-1-0 record. We wish him luck in his next fight and we'll be watching as Scranton's "All-American" hero defends his title.

Tags: Brian Stann, Electric City, pa, Pennsylvania, Scranton
Trackbacks
Leave a Trackback