Rediscover Scranton ready to launch
Downtown
— By
nmilner
on November 9, 2006 at 8:23 am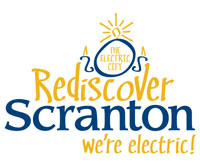 Electric City Renaissance is proud to announce the launch of Rediscover Scranton, a new intiative to communicate the electricity of what's happening in Greater Scranton by marketing the area's success and growth potential to businesses with connections here.
Rediscover Scranton volunteers will promote and strengthen greater Scranton's quality of life and business assets by identifying and contacting accomplished professionals with ties to greater Scranton, informing them of economic, quality of living and growth opportunities, and encouraging them to relocate their businesses and families to the area.

The program will cultivate relationships between former and current residents of the area. Rediscover Scranton will target successful company executives, professionals, entrepreneurs, individuals who work in the creative industry and any other successful former residents.
Rediscover Scranton has formed partnerships with leaders from local and regional government and non-profit organizations, as well as local colleges and universities.
If you are interested in becoming a Rediscover Scranton volunteer or are aware of a former resident with a success story to tell, please contact The Scranton Plan at 1-800-722-5289. For more information on Rediscover Scranton visit our website at: www.rediscoverscranton.com
Meet the volunteers and get involved in Rediscover Scranton with a kick-off event on Nov. 22 from 6-8 p.m. at the MAC Gallery, 123 Wyoming Ave., Scranton. Cocktails and hors d'oeuvres will be provided by Vida Tapas Bar. For more information on this exciting event and to R.S.V.P. email powerscranton@hotmail.com.
Trackbacks
Leave a Trackback